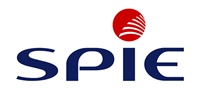 Apply
Speciality :
Electricity
Level of education :
4 year degree
Experience :
4 - 6 years
Type of contract :
Permanent employment contract
Salary :
To negociate
Geographical area :
FEYZIN 69320
Geographical location :
France
Starting date :
ASAP
Link :
Click here
Job's description
Société :
Leader européen indépendant des services dans les domaines de l'énergie et des communications, SPIE accompagne ses clients privés et publics dans la conception, la réalisation, l'exploitation et la maintenance d'installations plus économes en énergie et plus respectueuses de l'environnement.
Poste :
SPIE Sud-Est, filiale du Groupe SPIE SA, recrute un projeteur électricité industrielle pour sa Direction Opérationnelle Infrastructures, Energies et Transports.
A ce titre, vous êtes responsable des études qui vous sont confiées dans les domaines du gaz et des centrales hydro-électriques de la réunion de lancement jusqu'aux essais.
Vous garantissez le respect du budget d'heures défini pour chaque étude dans le cadre du cahier des charges et des modifications en cours de réalisation.
Vous contribuez à la satisfaction du client en proposant des solutions techniques innovantes.
Vous proposez ou intégrez les demandes d'amélioration qui vous sont transmises (par les chantiers, les responsables d'affaires, ...).
Dans le cadre de la politique de développement durable, vous appliquez les principes de management et les règles de SPIE en matière de qualité, sécurité et d'environnement.
Profile wanted
De formation supérieure, vous disposez d'une expérience significative sur un poste similaire idéalement dans les domaines du gaz et des centrales hydro-électriques.
Votre capacité d'organisation, votre rigueur, votre relationnel et votre désir d'apporter des solutions innovantes sont des atouts incontournables pour la réussite dans ce poste.
Pour postuler :
https://spie.contactrh.com/jobs/139/22789177
Apply